The Cincinnatian
Southern Pacific Daylight
MY LATEST PROJECTS
Baltimore and Ohio Railroad's Cincinnatian locomotive and a Southern Pacific GS4 Daylight are my latest conversion and decorating projects.
Bachmann Norfolk & Western Class "J" locomotives were used for the conversions. Styrene was used to create the side skirts and cab modifications. The pilot on the Cincinnatian was formed from cardstock. Photos show the work in progress.
History and photo of the Cincinnatian
Norfolk & Western Class "J" Locomotive
---
ON THE TRACKS TODAY
Presently running is a coal train with 32 loaded 90 ton Chessie 3-Bay hoppers with two Reading 4-8-4s "Double Heading" the train. These big engines with their sixteen-wheel tenders are over 18" long! This is quite a sight!

In all, I have 100 of these Chessie 90 ton 3-bay hoppers. These are Atlas, Life Like, Con-Cor, and Industrial Rail cars. Most are factory painted. I painted and decorated 12 of them. They are sub-lettered for B&O, WM, and C&O with many different road numbers.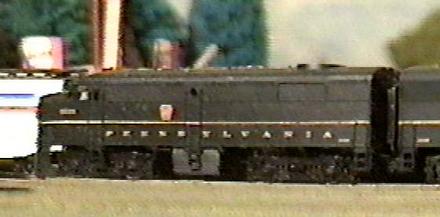 On another track is a 48 car Mixed Freight with PRR FA2, PRR FB2, two PRR SD7s, and a PRR F7A. Listen to the horn!
There's another long freight train with three Lehigh Valley GP18s and two Lehigh Valley F7As. These maroon and black engines really look nice.

One of my favorite freight cars is the Pacific Fruit Express refrigerator car. I have sixty-four 50' and 57' PFE cars similar to the one shown above.

The Auto-Train (1970s) is also running today. Three Auto-Train engines are pulling five auto carriers, nine full-dome passenger cars, a heater car, and an Auto-Train caboose. The Auto-Train is nearly nine feet long!
History of the Original Auto-Train

I recently painted and decorated this Auto-Train GP40. Three engines pull the Auto-Train now!
---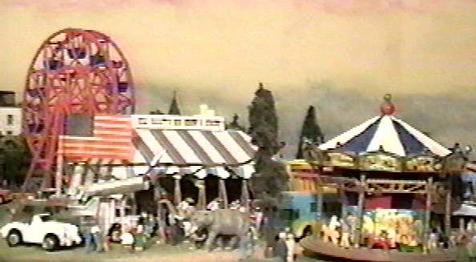 ON THE NEXT PAGE . . .
The story and photos of Bill's Circus Scene, U.S. Army Military Scene, and Downtown Scene.
Updated 1/11/17
MODEL RAILROADING BOOKS
Select from more than 150 model railroading how-to and reference books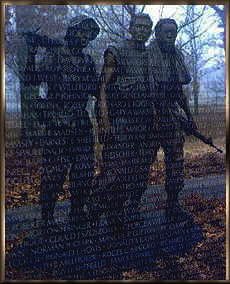 Vietnam Veterans Memorial
Washington, D.C.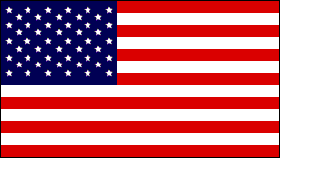 AMERICAN FLAGS
Print a sheet of American Flags to use on letters, envelopes, packages, etc.

Member of International List of
Scale Model Related Web Sites







---
Copyright © 1999-2017 by Bill's Railroad Empire®
Contents of this web site including text, photographs, programming code, and page format are copyrighted by Bill's Railroad Empire with the exception of certain gif, jpg, midi, and wav files which are assumed to be in the public domain. Amazon.com, Google, RailServe, Web Ring, and certain other images and material have been used with permission.
Disclaimer: If any gif, jpg, midi, or wav files are copyrighted, kindly inform me and they will be removed promptly upon receipt of documentation.
Please do not link to any of my files without permission.
Bill's Railroad Empire® is a registered trademark.
---
This web site is owned and managed by

billsrailroad.tripod.com
E-Mail: Bill's Railroad Empire