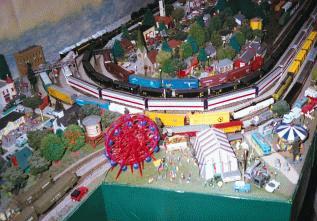 WELCOME TO

N SCALE MODEL RAILROAD HOME PAGE

featuring


BILL'S CIRCUS

and

U.S. ARMY MILITARY SCENE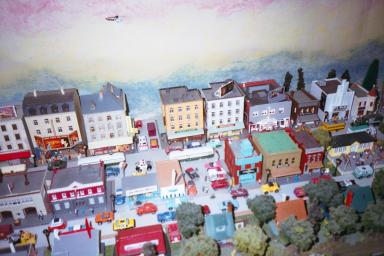 NEW! BILL'S RAILROAD ON VIDEO
Bill's Railroad Empire -- The Complete Video at YesVideo
---
SITE DIRECTORY
There is a convenient site directory near the bottom of every page. It can be used to navigate my web site.
---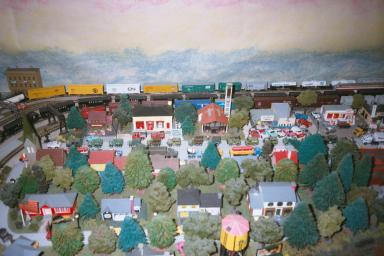 ABOUT BILL'S N SCALE RAILROAD
The layout is 11'x3' and has a four track mainline using Atlas sectional and flex track on AMI instant roadbed with Woodland Scenics light gray ballast. The rails and ties are painted with Floquil Rail Brown Paint. Minimum radius is 11".
There is a two track branchline (with mixed light gray and gray ballast) and a four track freight yard with cinders ballast.
Click on photos to see larger images.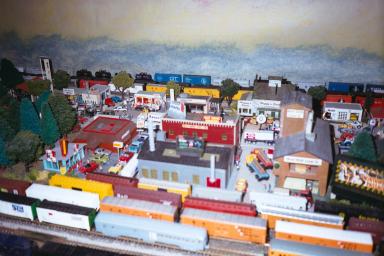 Power
Power is supplied by a MRC Dual Loco Pack #700N (4 amps) with a MRC Transistorized Cab Control #55 and has a NJI Voltmeter and Ammeter. A MRC Dualpack #770N (2.6 amps) is also used. Five Atlas Selectors (with four switches each) are used for block control.
Sound
All four mainline tracks have sound now. Sound is generated by five digital sound systems. A MRC Tech II Digital Sound Generator (Model 8000) provides steam chuff or Diesel engine sounds with whistle or horn.
There's also a CMI Digital Diesel Sound System (Model DS-EB) with Diesel and turbo sound including Diesel idle, turbo and a three-tone horn, two CMI Digital Diesel Sound Systems (#3001) with engine and turbo sounds, and a CMI Digital Steam Sound System (#2001) with steam engine chuff.
Steam sound is available on two tracks and Diesel sound on all four tracks. The sound generators have voltage synchronized engine rate for more realistic sound.
There are eight speakers for the train sounds and nine for the layout and background sounds.
Continuous sound was recently added to the circus scene. All the sounds usually heard at a circus are generated to speakers under the circus scene.
There's also sound for the haunted house. Ghostly and eerie sounds are played through a speaker under the layout.
Twenty-seven individual digitally recorded layout sounds can be selected as desired. This is my latest sound project.
Continuous city street sounds come from an audio tape that I created for the downtown scene. Additional background sounds are provided by a Green Frog audio tape.
The entire layout has sound now. A very rewarding effort!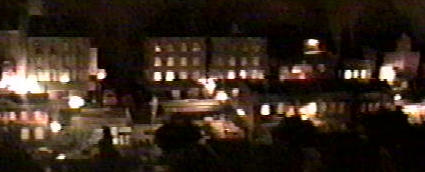 Lights
There are 222 lights on the layout using six amps of electrical current (at eight volts). DC Power is supplied by a MRC Throtlepack Model 500N (2.2 amps) with MRC Cab Control #44 and a MRC Railpower 1370 (1.5 amps). The lighting is controlled by 24 switches on eight Atlas Connectors. This is a really big light show!
Animation
Animation of Bill's Circus is in progress. The Merry-Go-Round is animated with a 15 rpm Faller motor and plans to animate the Ferris Wheel are in progress.
Lighted animation includes a billboard with 28 running lights, lighted traffic and railroad signals, flashing lights on the circus scene, and flickering lights in two theaters to simulate a movie. Next is a Seuthe smoke chimney for the bakery.
Scenery
Nearly 600 people, 225 autos and trucks, 144 trees, and 82 structures are on the layout. There is a printed background that has the effect of sky, clouds, and terrain in a non-repeating pattern. Various textures and colors of Woodland Scenics Ground Foam are used for ground cover and terrain.
Bill's Easy Method Tutorials
A popular page that includes tutorials for track ballasting, track painting, track cleaning, building a layout table, structure lights, and layout sound.
Click Here to Go to Tutorial Page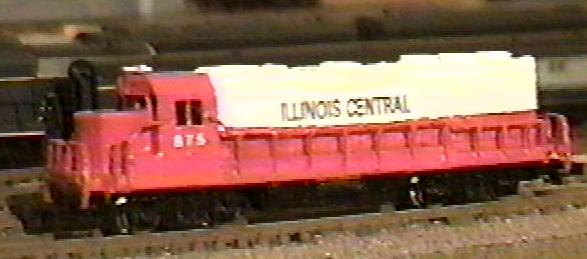 Illinois Central GP40 and box car that I painted and decorated
Timeline
The layout was constructed in 1991. It was upgraded with a number of new and modified structures in 1996. In 1996, I began painting and decorating engines and cars. Seventy locomotives and cars have been completed.
Sound was added in 1996-2001. The circus scene was added in 1997 and the Army scene in 1998.
The lighting was added in 1997-98. The track was re-ballasted and the track and ties were painted in 1998. Animation of the circus is in progress. The Merry-Go-Round was animated in 1999 and the Ferris Wheel will be animated soon.
I established this web site in March 1999. The site began as one page with about a dozen photos. Since then, it has grown to more than 50 pages with over 500 photos. There have been more than a half million visitors from the world over. This project has been a very rewarding pleasure for a retired senior citizen!
Bill's Railroad Empire has a new url. Please save or bookmark for future visits
I recently painted this Baltimore and Ohio #5300 President Washington.
In late 1999, rooftop details were added to the buildings. Although not seen in these photos, the structures look a lot more realistic now.
This is my third N Scale layout. The first was a 4'x2' layout in 1974 and the second was 11'x4' constructed in 1978. The present layout is nearly finished. I've never tired of the layout. My equipment was never converted to Micro-Trains couplers and I didn't add DCC. I've always been satisfied with Rapido couplers and block control. Building the layout and running the trains has always been a great source of pleasure for me and I've met many nice people along the way. Prior to the N Scale layouts, I modeled in HO Scale. There were two HO layouts in the 1960s. I previously built five Lionel 027 Layouts, the first in 1948 (when I was 13) and the last in 1985.
UPDATED! HISTORY OF N SCALE
A brief history and photos of N scale, Treble-0, and 000 Gauge model trains from the 1950s through the 1980s.

ON THE NEXT PAGE . . .
Photos of my latest locomotive conversion and decorating projects and photos and story of on the tracks today.
BILL'S PHOTO GALLERY
This popular page has close-up photos of scenes
on my N scale model railroad

There are photos on every page!
Thanks for the award, Sue!
Thanks for the award, Taz!
Thanks for the award, Margie!
Thanks for the awards, Robin!
Thanks for the award, Margie!
Thanks for the award, Brian (aka Sir Victor)!
Thanks for the award, Norbert!
Thanks for the award, Casey!
Thanks for the award, David!
Updated 10/7/2017

BILL'S STORE
Updated! Large selection of Model Railroad Books, N, HO, Lionel, MTH Train Sets and Add-Ons, Toys and Games...and lots more.
"It is better to keep your mouth shut and have people
think you're a fool, than to open it and remove all doubt."
Mark Twain
Happy
"Always do right. This will gratify some people and astonish the rest."
Mark Twain

These web pages have been constructed entirely with a MSN/WebTV Internet Terminal. Special thanks to Star Blvd. Transload Service, Filedex, The Club House, Transloader.com, Domania, My Imager, AnyBrowser.com, Charlie, and Jo Ann.
Links to Favorite Sites
Links to 1,100 sites that include modeling resources, tutorials, how-to pages, layouts, photo and reference pages.
Click Here to Go to Favorite Sites
On-Line Magazine of the Train Collectors Association
HTML 4.0 Transitional was used for the construction of these pages. If your browser supports HTML 4.0 Transitional, the pages should appear as designed and constructed.
Powered by WebRing.


The Web Ring logo and the RPO illustration are copyrighted
by their respective creators.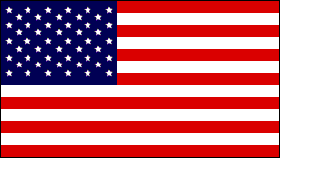 ---
Copyright © 1999-2017 by Bill's Railroad Empire®
Contents of this web site including text, photographs, programming code, and page format are copyrighted by Bill's Railroad Empire with the exception of certain gif, jpg, midi, and wav files which are assumed to be in the public domain. Amazon.com, Google, RailServe, Web Ring, and certain other images and material have been used with permission.
Disclaimer: If any gif, jpg, midi, or wav files are copyrighted, kindly inform me and they will be removed promptly upon receipt of documentation.
Please do not link to any of my files without permission.
Bill's Railroad Empire® is a registered trademark.
---
This web site is owned and managed by

billsrailroad.tripod.com
E-Mail: Bill's Railroad Empire