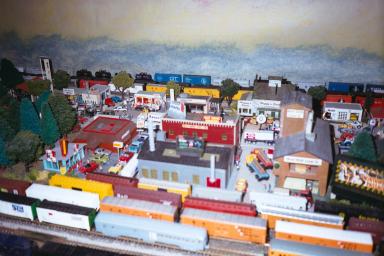 ALONG THE HIGHWAY
Lining the busy highway are a Fire House, Church, Car Dealer, Gas Stations, Happy's Seed and Feed, Pizza Hut, a Diner, Bank, Lumber Yard, Burger King, and more.
Cars are lined up for the Starlight Drive-In Theater. There are swings for the kids and there is a flickering light in the screen to simulate a movie and a lighted billboard.
---
The Drive-In Theater . . . All About Drive-In Theaters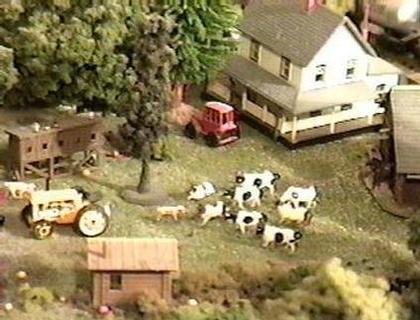 Across the road is a farm with a house, barn, chicken coop and other buildings. The farm includes a small field with a crop, tractors, and apple trees, and there are horses, cows, pigs, chickens, and ducks.
The structures and parking lots are all lighted. The Gas Stations, the Diner, and Happy's Seeds have lighted signs. There's also a billboard with running lights! Background sound incluedes all the typical sounds for the scenery. A convoy of fifteen Army trucks waits at the railroad crossing. The railroad crossing has lighted crossing signs. There's a lot of traffic on this busy highway today!

A flying saucer from outer space lands in a nearby field! Army tanks and soldiers are on the scene. One alien has already emerged. Residents have been urged to bring in their pets and lock all doors and windows. Let's hope this guy is friendly!
---
See Photos from "The Day the Earth Stood Still" (1951)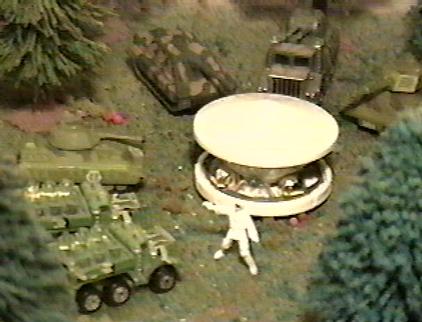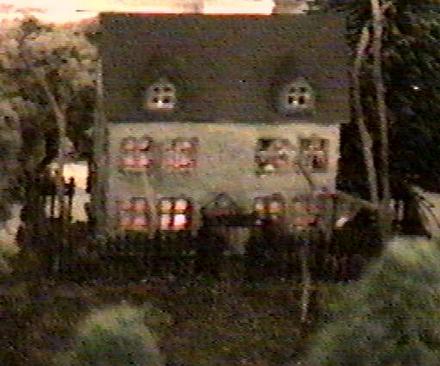 THE ALUCARD HOUSE AT 1313
The kids say it's haunted and maybe it is. Even the trees are dead up on that hill. There's a coffin-sized crate leaning against the house. The UPS man delivered it the other day and didn't wait for a signature! Perhaps it's Count Dracula visiting for Halloween!
Whatever it is, there's a ghoul rising from the ground and who's that hanging upside down on the tree limb? Who are those eerie creatures in the windows? The lights are too dim to tell.
Things really come to life when there's a Full Moon! Bats are everywhere, dogs howl, neighbors put wolfsbane and garlic cloves above their doors and windows! Don't answer the door! It's not Domino's! Hmmm...what is Alucard spelled backwards?
This haunted house has (dim) lights and spooky sounds from a speaker mounted under the layout. It's my latest sound project.
---
Micro-Trains N Scale Eerie Express Train Set and Structures
Micro-Trains N Scale Cemetery Central Train Set at Brooklyn Locomotive Works
Bill's Railroad Empire has a new url. Please save or bookmark for future visits
COMMENTS FROM VISITORS
"A Masterpiece!"
"The Circus Scene is Beautiful!"
"The (222) Lights are an Awesome Sight!"
"A Level of Detail Usually Seen Only in Larger Scales"
"The Entire Layout is Fabulous!"
---
WHAT IS N SCALE?
N Scale began in Europe around 1960. N Scale is 160th the size of real trains (about 54% the size of HO Scale and 30% the size of a Lionel toy train).
---

E-MAIL
Click Here to send an E-Mail to Bill's Railroad Empire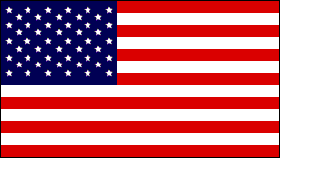 In Memory of My Best Friend

JAMES A. GRAHAM

Captain, USMC

August 25, 1940 - June 2, 1967
Capt. Graham courageously gave his life for his country while in combat in Vietnam and was awarded the Congressional Medal of Honor posthumously for his gallant courage and leadership
Jim left his wife, Janice, and two children
He was a graduate of Frostburg State College, Maryland
Capt. Graham is buried at Arlington National Cemetery
View the Medal of Honor Citation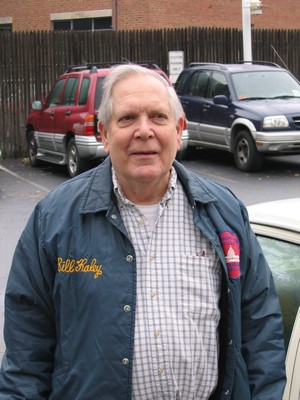 Thanks for visiting my web site. Please come back soon. There's a lot more coming.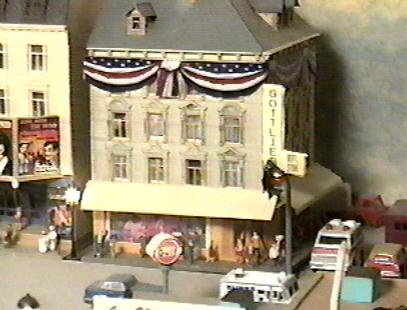 ON THE NEXT PAGE . . .
Bill's Photo Gallery with close-up photos of scenes
on my N scale model railroad.
Return to Bill's Railroad Empire Home Page
Updated 1/11/17
MODEL RAILROADING BOOKS
Select from over 150 model railroading how-to and reference books
Website Established March 1999

---
Copyright © 1999-2017 by Bill's Railroad Empire®
Contents of this web page including text, photographs, programming code, and page format are copyrighted by Bill's Railroad Empire with the exception of certain gif, jpg, midi, and wav files which are assumed to be in the public domain. Amazon.com, Google, RailServe, Web Ring, and certain other images and material have been used with permission.
Disclaimer: If any gif, jpg, midi, or wav files are copyrighted, kindly inform me and they will be removed promptly upon receipt of documentation.
Please do not link to any of my files without permission.
Bill's Railroad Empire® is a registered trademark.
---
This web site is owned and managed by

billsrailroad.tripod.com
E-Mail: Bill's Railroad Empire