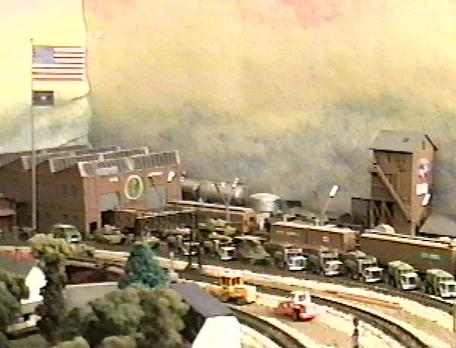 U.S. ARMY SCENE
The big red, white, and blue garrison flag waves proudly over this U.S. Army post.
There are two lighted rail sidings, searchlights, supply depots, lighted barracks buildings, a searchlight tower, and a water tower with a blinking warning light.
An observation tower and several anti-aircraft guns help protect this important military site. And, there are several airplanes and helicopters in the air.
I spray painted and lettered the U.S. Army locomotives and cars. Most are olive drab, but several are dark tan. Dry transfers and decals were used for the lettering.
---
U.S. Army Railway Guard Car Story and Photos
Photos and History of the Troop Car
Troop Cars--Information and Floor Plans
Photos at Military Rails On-Line
J&M Hobbies N Scale Military Equipment
Micro-Trains Veteran's Tribute Set and Military Trains
Micro-Trains Battle of Midway Commemorative Locomotive and Caboose
America's Honor Collection N Scale Box Cars from DeLuxe Innovations
Micro-Trains Military Trains and Sets
U.S. Army Special Run Box Cars from Brooklyn Locomotive Works
N Scale Military Barracks and Structures
N Scale U.S. Army Items at eBay
Model Power offers several N scale U.S. Army items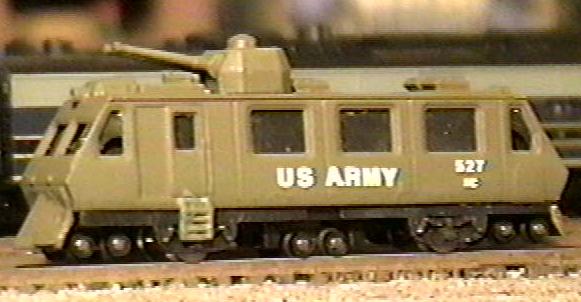 U.S. Army Self-Propelled Rail Vehicle
This fictional military rail vehicle was recently created using a Bachmann Plasser Rail Geometry Car. The gun turret is from a Micro Sonics toy truck. It carries a squad of armed soldiers and protects the vital railroad sidings at the Army installation.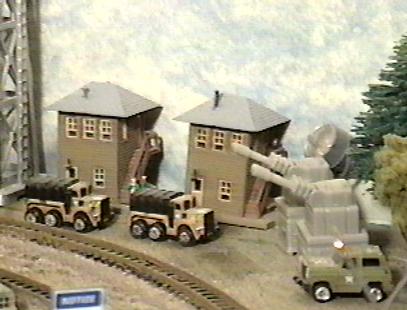 The Army Scene isn't finished. What I really need is another three inches for this scene, but the wall is in the way! This is one of the most popular scenes on my railroad.
---
Thor Sheil's Military Presence on Model Railroads has an era-by-era synopsis of U.S. military equipment and troops. A great source of information.
---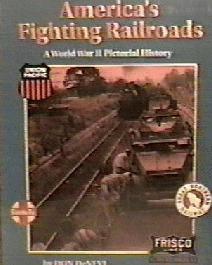 A terrific book!
"AMERICA'S FIGHTING RAILROADS"
A pictorial history of the part U.S. railroads played in World War II. This 148 page book includes more than 200 photos. Highly recommended!
TRAINS TO VICTORY: AMERICA'S RAILROADS IN WWII
The dramatic story of the years 1941-1945 when U.S. railroads, using fewer cars and locomotives than in WWI, moved more tonnage and more passengers than ever before
UNITED STATES MILITARY RAILWAY SERVICE
America's Soldier-Railroaders in World War II--By Don Denavi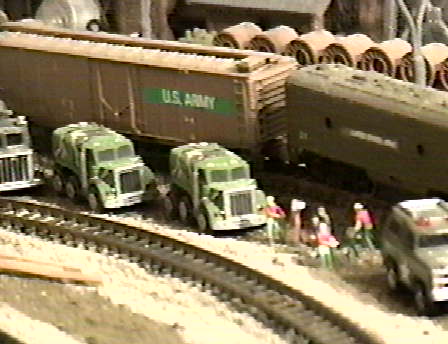 ---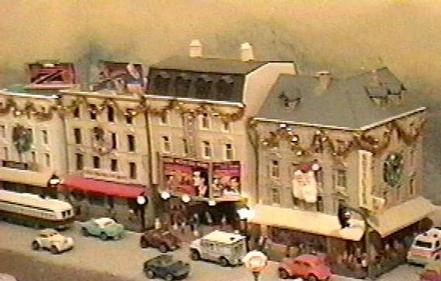 ON THE NEXT PAGE . . .
The story and photos of the Downtown Scene and more!
---
Return to Bill's Railroad Empire Home Page
Updated 1/11/17
MODEL RAILROADING BOOKS
Select from over 150 model railroading how-to and reference books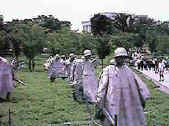 The Korean War Veterans Memorial
Washington, D.C.

---
Copyright © 1999-2017 by Bill's Railroad Empire®
Contents of this web page including text, photographs, programming code, and page format are copyrighted by Bill's Railroad Empire with the exception of certain gif, jpg, midi, and wav files which are assumed to be in the public domain. Amazon.com, Google, RailServe, Web Ring, and certain other images and material have been used with permission.
Disclaimer: If any gif, jpg, midi, or wav files are copyrighted, kindly inform me and they will be removed promptly upon receipt of documentation.
Please do not link to any of my files without permission.
Bill's Railroad Empire® is a registered trademark.
---
This web site is owned and managed by

billsrailroad.tripod.com
E-Mail: Bill's Railroad Empire